HPH-MT7W
Tai nghe giám sát phòng thu
MT Series studio monitor headphones have been used by top audio professionals from around the world in a variety of studio and live sound environments. Here are information on these artists and their personal account of their experiences with MT Series headphones.
User reviews from around the world
"With the HPH-MT7 headphones, I can edit and mix in the studio for hours without the typical headphone feeling. The sound quality and frequency response fits my taste exactly, and the stereo image is extremely precise."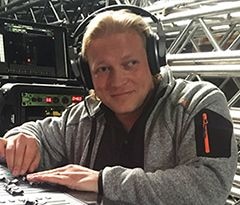 I use headphones to control my mixes live and in the studio. With good headphones like the HPH-MT7s, I sometimes even use them to listen to music just for the fun of it. Durability and comfort are very important to me, so the hardware needs to be solid, but at the same time it has to have a perfect fit. A high damping factor for outside noise is also crucial when using headphones in professional applications.
I tested the MT7s during session work in the studio and some live situations as well, with great results. They have a very good stereo image combined with an extremely wide frequency range. The high quality sound of the MT7s makes them the equal of other renowned professional headphones like the HD25 that are seen as industry standards. What's more, the fit is perfect. In contrast to many other headphones I can work in the studio with the MT7s for hours without getting tired. I really like the design too; very pure, with clean lines appropriate to a professional recording tool.
Profile:
Olli Voges started playing the guitar at the age of eleven and has been touring with his band since he was 14. After his studies, he started working for different sound reinforcement companies and studios. He toured worldwide with artists such as Faith No More, Deftones, Tangerine Dream, David Copperfield, Sarah Brightman, Naturally Seven, Scooter, Mousse T., 4Lyn, Kool Savas, Fettes Brot, Stanfour and Casper. 
He has also mixed live shows at some of the biggest festivals in the world, such as Rock am Ring, Rock im Park, Hurricane & Southside Festivals, Mera Luna, Sun Moon and Stars, Wacken Open Air, Download Festival, Monsters of Rock, and the Montreux Jazz Festival.
Since 2002, he has worked as the FOH engineer for the ECHO award show and has been involved in many other live music TV shows, including the MTV music awards, THE DOME, Bravo Super Show, and the Eurovision Song Contest.
Olli was also one of the founders of the Live Mixing Workshop with Sennheiser, d&b and Yamaha in 2003 and since then has been a permanent member of the team.
"For the final check after mastering, the HPH-MT7 headphones will satisfy all the requirements that an audio engineer would expect from high-quality headphones. The similarities in the sound field, EQ, and ambience make them comparable to the top monitors in the market in these aspects—even with subs."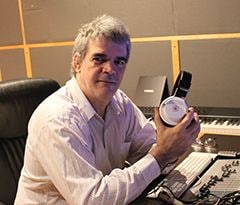 I use headphones for recording sessions of any instrumentalist and to verify my mixes/mastering. I also use them to test the sound quality of works that I must compare and give an opinion of. For me the key elements in a pair of headphones relate to their comfort. If the musicians don't feel comfortable with them, it won't matter if they sound good because they won't use them for long periods of time. Isolation is also very important to avoid sound pollution from mics with great sensitivity.
I tried the HPH-MT7 headphones in recording sessions with musicians and soloists / chorus singers. In particular, I tested them during the mixing of the new production of Mr. Francisco Cespedes using the studio equipment as well as a commercial device (iPod). I then used them for the mastering to hear the final result. They really stand out in comparison with any competitor's models. The quality will satisfy the high standards of the most demanding audio engineers. In my experience, these headphones, even though they're new, reflect the best attributes from all the brands I've used in my career.
The fit is incredible also! They adjust to any size you require and feel very comfortable so I can work for several hours without suffering ear fatigue. I'm a big fan of the beautiful design as well, with black or white models to satisfy every taste.
Profile:
Multiple Latin Grammy award winning music producer and founder of AT Studios. Recent projects include works from Francisco Cespedes, Lila Downs and Fernando de la Mora.
"Most headphones don't provide as accurate a bass and midrange response as nearfield monitors but the HPH-MT7 headphones are an exception. I get a much fuller, rich low and midrange experience, and as such, can mix without the worry that those frequencies won't be represented properly."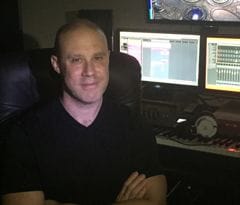 I always use headphones in the booth or when I am on a remote session, and periodically I will compare mixes on two kinds of monitors—including my Yamaha HS50Ms—as well as headphones. I think that headphones ultimately need to represent accuracy and prevent ear fatigue, through both the audio itself and the comfort of the headphones.
I tested the HPH-MT7 headphones with sound design sessions and music I had written recently for several projects, and the accuracy and stereo separation is excellent. I compared them with both HS50M monitors and some of the major headphones on the market and the lows and mids were much better than the others.
They're also very comfortable! The feel was very impressive and the design is good and solid. I particularly liked the partial use of metal as well. I'm unsure about the longevity of course but they appear more durable than what's available in the market now.
Profile:
Alex Brandon runs an audio production company called Funky Rustic, LLC, and works on a variety of projects, focusing primarily on video games. Currently he is working on 5 new projects—most of which are yet to be announced—but he has previously worked on music for popular games such as Unreal, Unreal Tournament, Deus Ex, Jazz Jackrabbit 2, and Alpha Protocol as well as voice work for DC Universe Online and Skyrim games. He has been an audio director for Ion Storm, Midway, Obsidian Entertainment and Heatwave Interactive and is also Vice-President of the Game Audio Network Guild. He has written a book, "Audio For Games: Planning, Process and Production," and has written articles for magazines such as Game Developer and Mix.
"I don't want to hear someone else's headphone EQ curve or "smiley face," or who knows what, for my critical listening. What I like about these headphones is that the sound stays true to the original sound source, because I want to hear what things really sound like, for better or worse. The ergonomic qualities of these headphones are also terrific and they are built tough. I won't be gigging without them."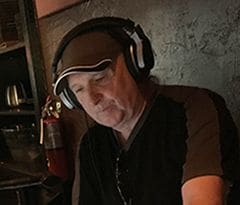 I need to study the artist's music before a show which sometimes requires a critical listen to each song of the set— maybe up to a hundred times. During the show, I mainly use them for PFL or Cue.
What I look for in a headphone is sonic quality, wearability, comfort, and an overall solid experience.
I have at least a dozen pairs that I compared to the HPH-MT7s, which I tested in live concert settings as well as the studio. They were tested for isolation, ease of use, and of course sonic accuracy, and they surpassed my expectations on every level. I think it will be a challenge for competitors to match the MT7's accuracy—there were no bumps or dips and the imaging was very good. I was also impressed with their comfortable, sturdy design and they are built tough and smart; everything feels good and stays feeling good.
Profile:
CCA specializing in sound system design and sales for new installed sound reinforcement projects, i.e. clubs, churches, theaters, restaurants etc. Chapman Cooper is also an educator who teaches Sound Principles and Sound Design for Theater courses at Cypress College in California. Having also taught live sound at Long Beach City College for the past 10 years, he has been instrumental in helping students learn how to better understand how sound works and how to apply that knowledge to their craft.
"The Yamaha HPH-MT7 headphones deserve praise for their high-quality sound and precise stereo image. They provide a broad sound field, and reproduce the source sound faithfully. I can use them in my studio as professional monitor headphones, or even just for listening to music on the way to work."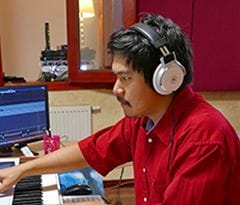 I often use headphones for a final check of music demos before sending them to the film director, utilizing them as another method of monitoring to check whether I need to make further changes to achieve a better mix. For me, it's really important that headphones reflect the sound position of each instrument accurately, especially for symphony music.
I used the HPH-MT7 headphones to listen to different kinds of music, and compared them with other monitor headphones. The wide sound field and precise stereo image really impressed me, and I think that the comfortable feeling they offer in the mid-high frequency range will also be attractive to many singers. They have a detailed sound that will help you to understand your work more, and their wide sound field is much better than other headphones of the same class.
In terms of fit, the MT7's earpads are comfortable to wear and the isolation is good for when you work outside. In fact, every aspect of the MT7s' design is attractive.
Profile:
Roc Chen is one of the biggest names in China's film, television, and video game industries. Barry Morrow (screenwriter of Rainman) also speaks highly of Roc's music for the film Forbidden Kiss, a joint US-Chinese project that has been nominated for Best Original Score at the New York City International Film Festival. Roc's music for A Bite of China has achieved top seller status in the film music category on Amazon.cn.
"HPH-MT7 headphones are super articulate and deliver serious detail. The mid range is super smooth, the top end has great reach without feeling grainy or fatiguing, and the low end is tight, with an ultra-deep extension."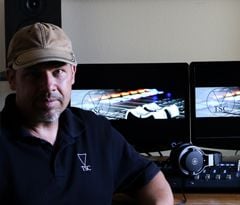 For live events, headphones are often the only true reference tool you can bring with you everyday. They are the balancing reference between what the console is sounding like and what the house is sounding like, whereas in the studio it is all about giving the client confidence in what they are hearing. Everything must focus on bringing out the best performance.
I tested the HPH-MT7 headphones in the studio and at live events paying particular attention to balance, detail, imaging, and fidelity, and I was immediately impressed with the sonics of these headphones. They delivered great detail and extension without feeling gritty on top, and had a tight low end with weight to it— which was impressive since headphone low end can feel a little artificial at times. And while I personally prefer velvet ear pads and detachable cables, I do think the design is sharp and clean, and I believe the MT7s could be a top contender in the headphone market for its sonic performance alone.
Profile:
Live and Studio project with All American Rejects - Amiee Mann - An Emotional Fish - Beck - Beth Hart - Bob Carlisle - Carmine Appice - Chevelle - Coldplay - Crystal Gale - Daniel Lanois - Deborah Gibson - East West - Elton John - Flood - Gibson Guitars All Star Band - Hoobastank - Jackson Brown - Jan & Dean w/ The Surf city All stars - Jurassic 5 - Judy Collins - Juggernautz - Los Lobos - Marty Stuart - Mother Hips - No Doubt - Project 86 - Ricky Martin - Richard Carpenter - Rufio - Rufus Wainwright - Sting - Sublime - Switchfoot - The Alkaline Trio -The Gatlin Brothers - Doc Powell - Jimmy Dorsey Orchestra - Louie Cruz Beltran - Keb Mo - Charles Musselwhite - Doug McCloud - John Clayton - Jeff Hamilton - Nnenna Freelon - American Jazz Philharmonic - Donavan - Bryan Duncan - Crystal Lewis - David Ruiz - DC Talk - Denison Marrs - Fernando Ortega- Guardian - Jaci Velasquez - Jars of Clay - Matt Redman - Nicole C.Mullen - OC Supertones - PAX217 - Petra - Philmore - The Prayer Chain - Radium - Rita Springer -Steve Taylor - Tim Hughes – Phil Wickham – Evan Wickham – The Pawn Shop Kings – Five Iron Frenzy - Buena Vista Home Entertainment - Chevron - Chipotle - Chevrolet - Gibson Guitars - Gigantic Productions - Goldwest Productions - Dupont - Jafra Cosmetics - Harman Pro Audio - Harman Music Group - International Cinema Photographers Guild (Local 600 IATSE) - JBL Pro - Knott's Berry Farm - NCAA - Nextel - The Ovation Awards (Schubert Theatre LA) - Transparent Productions - Children's Hospital of Orange County - Roland US - Walmart - Wet Seal - The X Games - Arista - Epic - Epigram Music - Electra - Floodgate Records - Forefront Records - Skunk Records - Tooth & Nail - Earth Records - Rude Records - Gonzo Records - Island Records- MCA - Metro One - Tru Records - Warner Brothers - Word Records - Vineyard Music - Congressman Cox - Governor Pete Wilson - Loretta Sanchez - City of Brea - City of Corona City of Mission Viejo - City of Riverside - City of San Bernardino - City of Santa Ana - City of Chino - City of Claremont - City of Walnut - City of Rosemead - City of Orange - City of Huntington Beach - City of Diamond Bar - City of Laverne - University of California Long Beach - University of California Irvine - University of Northern Colorado - UCLA - Ontario Community Service - Southern California Association of Governments - Musical Theatre Southern California - Musical Theatre West - McCoy Rigby Entertainment - Orange County Performing Arts Center - UCLA Performing Arts - David Hyde Peirce - Ed Alonzo- Elvira "Mistress of the Dark" - Magic Awards - ESPN- The Fish KKLA Communications Group - Fox Network (Fuel TV) - KCAL - KLON - KFRG - MSNBC (Hardball) - Nathan Lane - Zoo TV (U2 live feed) - Neil Patrick Harris
"HPH-MT7 headphones are great for referencing mixes—most notably for their very accurate bass response and a vivid stereo image. They're also ideal for positioning mixes in the stereo field and you can wear them for hours without feeling the unpleasant pressure that plagues most other headphones. I even enjoy using them for recreational listening at home!"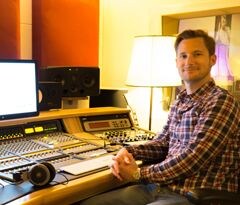 I use headphones generally for referencing mixes, mastering, and recording vocals. For me, headphones should be comfortable enough and sound good enough for extended periods of usage without listening fatigue, give you good value for money, and a long headphone cable is pretty important as well.
I recently tested the HPH-MT7 headphones for some mastering, mixing, and throughout my daily studio routine and I was very impressed by the bass response, clear stereo image, pleasant feel, and their smart, ergonomic construction. Actually, they really stood out from other manufacturer's models due to their lower bass response. As for their design, I found them very comfortable to wear and think they look great as well.
Profile:
Currently working as a sound engineer/producer at the legendary Chameleon Studios in Hamburg where countless hits from national and international artists (e.g. Udo Lindenberg, Kraftwerk, Drafi Deutscher, Tina Turner, etc.) have been recorded. Eike started his musical career at the age of 16 with his own band Dark Age, and also produced other local bands. Eventually he would go on to produce, mix, and/or master albums for bands such as Gamma Ray, Deep Purple, Eisbrecher, Saga, Oomph, and many more.
"The HPH-MT7 headphones give me the precision and comfort I need to design high quality game audio assets in my DAW. When implementing and verifying these assets in the game world they provide me with the accuracy to spot issues right away. Everyone could benefit from such a trustworthy partner!"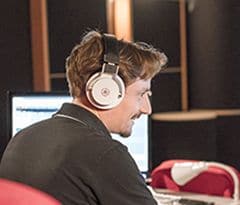 I often use headphones for asset design when laying tracks and gathering content from sound libraries and for playtesting products during development. Wearer comfort is as important as well balanced acoustics. Our customers and clients often use headphones when playing our products, so double-checking them is a must.
I tested the HPH-MT7 headphones in different working scenarios (asset design and playtesting) over a couple hours. I really like the precise stereo image, well balanced frequency spectrum, and the comfortable fit.
The MT7s are closer to a high-end gamer headset than other, more bass-heavy headphones, and thus will be more familiar to our target audience. They maintain a comfortable snug fit, even during long play sessions.
Since they come with both a 6.35mm adapter and a 3.5mm jack, the MT7s can be used with professional audio tools as well as directly with PC consumer audio card outputs.
Profile:
Florian had already accrued ten years of professional audio experience before entering the game Industry with Crytek in early 2006. Being a dedicated gamer with a passion for game audio, he is now audio director in Crytek's Frankfurt headquarters, having worked on all major Crytek titles including the Crysis franchise, Ryse:Son of Rome, and several Warface missions, as well as contributing to and improving the audio pipeline for CRYENGINE.
"Accuracy is a must for me, and the HPH-MT7 headphones were surprisingly accurate, with good definition and balance. Great value for money, meeting or exceeding the performance of more pricey models from other manufacturers."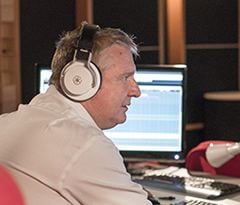 I use headphones every day, listening to audio in current production, which can be anything from sound effects to voices or music from a wide range of genres. Accuracy, to me, is the most important attribute for headphones. I tried out the HPH-MT7 headphones by listening to a range of different known recordings, voices, and music. Recording voices and balancing voice recordings are basically part of my everyday routine. I felt that the MT7s were well balanced with good definition at both extremes of the audio spectrum—even when driven with low powered devices like my iPhone. They were surprisingly accurate, and exceeded my expectations for the price range, with none of the flaws of some well known competing products. They easily match the performance of some more expensive models.
I have big ears and the earpads of the MT7s still fit comfortably and stay in position well. I was also impressed with the solid build, which will be able to withstand the rigors of daily studio use.
Profile:
Since starting out in gaming in 2000, Simon worked for both Ubisoft and BioWare before joining Crytek, heading up audio teams on highly-successful titles and series such as Tom Clancy's Splinter Cell, Assassin's Creed, Prince of Persia, Mass Effect, and Dragon Age. The new challenge of virtual reality and true 3D audio are now part of his daily routine—he can't tell you what he's working on today, but it sounds frighteningly real!
"Exceptionally high resolution sound, with excellent isolation. The HPH-MT7 headphones will satisfy any sound engineer."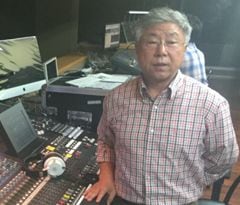 In my work as a sound engineer I mix for a variety of performances, using headphones to check the balance and the tonal quality of individual sounds. When choosing headphones, I place a lot of emphasis on the resolution of the sound they provide. For me, the choice is based on how well of headphones provides sound reproduction that's faithful to the source, and whether individual sounds can be heard clearly with good balance.
The instant I tried on the HPH-MT7 headphones that Yamaha sent I was astonished by how well they isolate you from ambient environmental noise. My first test was with a two mix source, and they responded with an extremely clear sound—exactly what I was looking for. I usually use headphones from another major brand, but the MT7s provided better sound quality, and a much more satisfying listening experience. Their high sound resolution and excellent isolation were very impressive.
Perhaps due to the fact that I am used to relatively lightweight headphones, the MT7 headphones felt very solidly built to me. They fit my head so well that I wasn't particularly fatigued, even though I wore them for a long time. I think that the MT7s are a product that will satisfy any sound engineer.
Profile:
Sound engineer with the National Theater of Korea for performances in South Korea and around the world, working as an operator for everything from classical concerts to plays.
"I'm impressed by the realistic sound of the HPH-MT7 headphones. They let you hear the sound how it truly is, and give you a better reference to work from. If the sound from MT7s is brilliant, you can be sure the sound is brilliant. If the sound is terrible, then you have to adjust your equipment—the MT7s never lie. That is what makes me trust them."
I usually use headphones to listen to the ground noise of the system and adjust the equipment before recording. When I'm mixing I often use monitor speakers for the majority of the mixing process and then use monitor headphones to check the finer details. For me, it's important that monitor headphones provide a pure sound without adding any color to the signal. This lets you get a good reference of the true sound.
I tested the HPH-MT7 headphones while mixing and recording, and then compared them with my other headphones. They have a frequency response that is quite flat, and I was immediately impressed by their pure sound. The stereo separation is also great, which gave me a more detailed image of the sounds. Although other headphones may excel in a specific area they sacrifice some other advantages, whereas every aspect of the MT7s' specifications is excellent. The design of the MT7s is also wonderful. They have a high-quality look and construction, and I also appreciated the 3.5 to 6.5 mm adaptor, since this makes it easy to use the MT7s for a range of applications.
Profile:
Xiaozhong Li is the head of the audio department of Shanghai Pudong Culture and Arts Direct Center. His recording and mixing resume includes orchestral works such as the Bach Double Violin Concerto and a variety of local opera projects like Happy Harbor.
"When I first tried the new HPH-MT7 headphones, I felt a sense of comfort that I never experienced with other headphones. Their crystal clear audio, construction, and superb isolation make them the kind of headphones I've always wanted. They have a very accurate frequency response and allow me to locate each instrument by its location and color."
I usually use headphones during soundchecks, ensuring that the signals coming from the stage back to me are clean.
Also when I have to mix songs recorded live or for studio recordings I usually do as well. I even use them on long trips just to relax and listen to music.
I think a good pair of headphones should have a clear and defined sound with appropriate frequency response, as well as good isolation for use in live performances. And they've got to be durable and strong!
When I tested the HPH-MT7 headphones, the first thing I did was connect my phone to listen to some MP3s. Then I listened to some CD quality tracks that I usually use for soundchecks with a higher quality soundcard. Finally I used them for the past few concerts I've worked for referencing and for cue mixes. What struck me most was the sonic clarity, excellent isolation, and the musicality of these headphones. I was also impressed by the robust, solid construction and outstanding smart, modern design with a professional touch. The cable length and quality is very good, and the plug is well developed and looks pretty sharp. The earpads are also very comfortable so users will not tire quickly. I also liked the transport bag, which provides greater safety, comfort and hygiene for the headphones.
Profile:
Currently working as a PA engineer for Spanish pop star Raphael. Has experience working as sound engineer for Pasion Vega, Pastora Soler, Loquillo y los trogloditas.
"When you want to monitor a particular sound, or listen to a specific passage in a two-mix source, the HPH-MT7 monitor headphones let you focus your concentration on whatever you want with ease."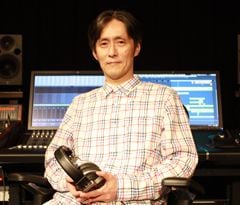 I generally use both monitor speakers and monitor headphones for studio work—using headphones when I want to monitor the segment I'm mixing in isolation. For me, it's important that headphones accurately reflect any changes I make to the sound, and because I use them to cut out environmental noise, isolation is crucial. Since I often spend hours working on a mix, it's also important that they fit well and are comfortable enough to wear without causing any fatigue. That's important when I'm using them myself, but it's also an issue when someone else uses them; when I ask musicians to wear headphones I give them headphones that are not too heavy, and that won't get in the way when they're playing. The HPH-MT7 headphones are similar to the HPH-MT220—which are what I usually use—in that they have a flat response across a wide range, but I felt that the MT7s were particularly good when monitoring vocal frequencies. Although it's not something you really need take into consideration when you're just listening to music, when it comes to music production I think that you have to use the gear that's best for a particular situation, and the fit and the comfort of the MT7s mean that I would recommend these headphones to performers.
For these tests I listened to a reference CD source and monophonic sound from some multi-track material. The first thing I noticed was that the MT7 headphones reproduced the source sound extremely accurately. When you want to monitor a particular sound, or listen to a specific passage in a two-mix source, they let you concentrate on what you want with ease. The sound separation is good, and I think you could say that hey make it really easy to focus. On this point, they follow in the footsteps of the MT220s. I am a devoted fan of the MT220s for their isolation, accurate reproduction, and for the fact that you can use them for extended periods without fatigue, but the MT7s are light, which makes them perfect for when you need to work for a long time. They're a good choice for when you're out of the studio, or when you want musicians to use headphones, so I plan on utilizing them in a lot of different ways, depending on the circumstances.
Profile:
Yuji Sugiyama began his career as a sound reinforcement engineer in 1988, working with artists such as Kujira, Masumi Hara, Chikada Haruo & Vibrastone, and Tokyo Ska Paradise Orchestra. Thereafter he turned his hand to recording engineering and sound production, working in collaboration with many different acts, including Soft Ballet, Nav Katze, Tokyo Ska Paradise Orchestra, Schaft, Pizzicato Five, Hiroshi Fujiwara, UA, X JAPAN, L'Arc~en~Ciel, LUNA SEA, Jungle Smile, Super Soul Sonics, Kohmi Hirose, Core of Soul, cloudchair, Cube Juice, Atsushi Sakurai, dropz, Suiren, Heavenstamp, Nirgilis, Yui Horie, Takuma Terashima, Mao Abe, Babyboo, YOSHIKI, and Ryuichi Kawamura. He has also written a book titled, "All about Recording and Mixing" (Rittor Music).
"The HPH-MT7 headphones seem to be very good quality, extremely comfortable, and the sound is amazing. It's also worth noting how impressive the stereo imaging is and how much that can contribute to a good mix."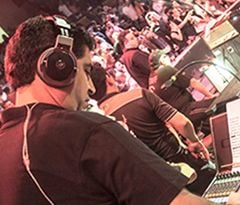 I usually use headphones to mix at live shows, particularly for FOH monitor mixes, and of course I use them to listen to music when I travel. I believe that, for engineers to be able to mix as best they can, headphones are the most important tool available to hone your craft.
I had an opportunity to use the HPH-MT7 headphones for a couple of live shows I did, and also during the traveling in between.
What impressed me the most about them was the stereo image because I could easily visualize the instruments in every single space in my head.
I see the MT7 headphones as being in a different league than other models in the same price range. The MT7s deliver a higher SPL than other major models too, although if I had my way, I would request an even higher SPL!
Also of great importance, they are definitely very comfortable and while I do like the classic unfoldable style in the studio or live, I would also like to see a folding style model emerge as the lineup expands. I am also a big fan of the very long, high quality cable of the MT7s, giving you full reign for FOH sound or in the studio.
Profile:
With 28 years experience as a sound engineer under his belt, Oscar Tovar is currently working as a Monitor Engineer on a major tour with two pop bands OV7 & Kabah, and preparing for the 2016 Tour of another pop band, Jesse&Joy. He also does monitors for other pop bands like Moenia, Jeans, Playa Limbo as well as FOH engineer duties for a band called Elefante.