Two world class concert grands in one digital piano.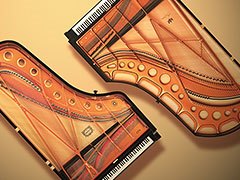 Two world class pianos are contained within the CVP Clavinova. The CFX, Yamaha's finest concert grand, selected and played by the winner of the 2010 International Chopin Piano Competition, and the Imperial from Bösendorfer, one of the oldest piano manufacturers in the world and a brand held in high esteem by pianists throughout its long history. These renowned pianos are characterized by distinctive traits such as power, versatility, subtlety, lightness and mellowness.
Both of these superb pianos' Voices are featured by name in the Clavinova. Tuned to perfection by a highly experienced piano technician and having the sound from each key recorded individually, Clavinova truly captures the unique tonal character of each of these outstanding instruments.
With Clavinova, you can choose from and enjoy the amazing digital reproductions of the exquisite beauty tone that only the Yamaha CFX and Bösendorfer Imperial can deliver.
Tính linh hoạt cao và khả năng cảm nhận tuyệt vời
NWX (Natural Wood X) keyboards are created using Yamaha's unrivaled expertise acquired through more than a century of crafting fine acoustic pianos. The material used for NWX keyboards is cut from wood that has been carefully dried specifically for use in making musical instruments. Only the best wood from the finest part of the tree is selected, resulting in a keyboard that is more resistant to buckling and warping than common laminated wood keyboards.
The NWX keyboard also features an escapement mechanism that reproduces the feel of an acoustic piano as it goes through the let-off and drop of the hammer when a key is played very softly. The action has been designed in such a way that the escapement is discernible only on the lightest keystrokes, similar to the keyboard of a grand piano.
Các phím bằng ngà voi giả có bề mặt mềm, hơi rỗng tạo cho phím thêm bám chặt và ma sát tự nhiên để cải thiện sự dễ chơi, đặc biệt là trong các phần thể hiện dài hay các bài chơi thực hành. Kết cấu mịn và tinh tế của phím cho cảm giác sang trọng và dễ lau chùi.

Strike with the perfect balance.
Counterweights are embedded in the keys to balance the weight of the hammers and offer more precise control when playing delicately at low volumes. The Clavinova features a carefully-adjusted set of these individual counterweights for improved playability when playing pianissimo and quicker key return in rapid passages.

No two keys are alike.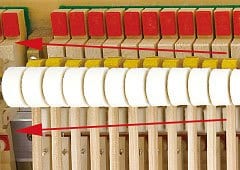 On an acoustic grand piano, each and every key is weighted differently. This is because the strings for each note are slightly thinner and shorter in the treble register, becoming gradually thicker and longer towards the bass register. The Clavinova action faithfully reproduces the subtle differences that this graded touch offers with differing weights and key returns for each one of its 88 keys. When it comes time to take your playing to an acoustic grand piano, the transition will be seemless to the performer.
An unrivaled grand piano pedal feel.
The CVP-709 features a damper pedal that continually detects depression depth and allows half-pedaling. The GP Response Damper Pedal offers variable resistance, starting out light to the touch and growing heavier as the pedal is depressed further. This allows players to become accustomed to the nuances of delicate pedaling on an acoustic grand piano.

For a sound that truly resonates with the listener.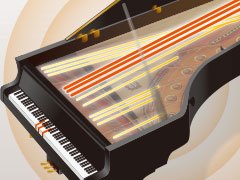 In a grand piano, strings and sounds resonate throughout the entire body of the instrument producing a rich reverberation that envelops the listener in sound. Not only are the strings you are playing vibrating, but other strings ring as a reaction to ones you play. This is one reason the piano's sound is so complex and rich.
This phenomena is reproduced perfectly in the Clavinova through Virtual Resonance Modeling (VRM) which calculates the various states of the strings for each of the 88 notes on the keyboard from one instant to the next. As a result, the Clavinova reflects the limitless number of factors inherent in playing an acoustic piano such as which keys are pressed, the strength with which the keys are played and pedal timing.
A new kind of headphone experience.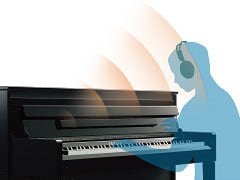 Unique to Yamaha, the Stereophonic Optimizer adjusts the spacing of the sound and the separation from the piano when listening via the headphones, resulting in a spacious sound image that will inspire you to play for hours at a time. Using this private listening environment, the sound of the Clavinova appears to come from the body of the instrument rather than from the headphones, providing a more realistic and naturally comfortable experience.
The Clavinova is ready for your Session.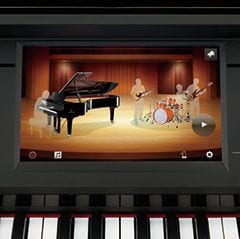 The Piano Room features the world-class Yamaha CFX and Bösendorfer Imperial concert grand pianos and has been expanded to include additional keyboard instruments including vintage electric pianos. In Session Mode, you can invite three additional session musicians into the room to accompany you as you practice and perform in 40 different musical styles. These session musicians will automatically follow your harmonies in either full-keyboard mode or split mode, and will also follow your volume expression using Dynamics Control. These session musicians can selectively be activated and deactivated depending upon your musical needs at the time. Within this special room you can even record your sessions with the touch of one button.
So realistic, you won't believe the sound is coming from a keyboard.
Yamaha's Super Articulation Voices (SA) and Super Articulation 2 Voices (SA2 on CVP-709/709GP) add genuine performance attributes of the real musical instruments as though they were being naturally performed by a virtuoso of that instrument instead of from the keys of a piano keyboard. Examples include "fret noise" or "body knocks" from a guitar or the "inhales", "exhales" and glissandos from wind instruments. By simply varying your touch and playing techniques or using the pedals, SA and SA2 Voices will add significant authenticity to your sound.
The groove and sound of live drummers!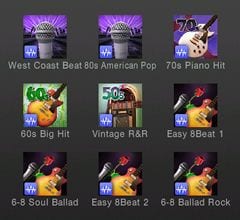 The CVP-709/709GP offers 30 Audio Styles and have been specially produced by adding audio recordings of studio musicians playing in various recording studios worldwide. This adds all the natural feel, ambience and warmth to the drums and percussion of a Style, giving your performance greater expressive potential. Audio Styles utilize Yamaha's Time Stretch Technology, which allows the audio to follow your tempo changes without changing pitch. Everything stays in perfect sync.
All you need to know is the song. The Clavinova does the rest.
Music Finder is great when you are looking for just the right Style or Voice combinations so YOU can perform a particular song. Simply choose the name of the song you want to play from the Music Finder list and the CVP will call up the proper settings so you can get playing right away. These settings were created by professional musicians from around the world specializing in particular genres of music.
Can't remember the name of a song? No problem. Just play!
The Style Recommender is an intelligent function that allows you to find a Style that suits the type of music you feel like playing. You don't even need to know the name of the song; the rythmic feel alone will do. Just play a bar or two of a simple rhythm or piano tune and a list of Styles that match your playing will instantly be displayed.
An automatic page turner with Guide Lamps to light the way.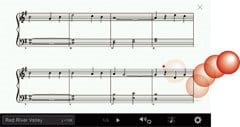 Follow along with the bouncing ball shown on the score as you play to be sure of never losing your place. Pages turn automatically or you can flip through pages by swiping the screen horizontally. If reading music isn't your forté, you can follow the guide lamps above the keyboard that will show you the correct keys. With guide activated, CVP will wait until you play the correct note so you can practice at your own pace.
Sing in perfect Harmony… with yourself!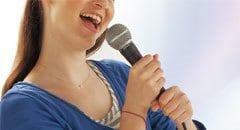 You can enjoy karaoke backing with songs stored in your Clavinova or downloaded from YamahaMusicsoft.com. The lyrics are shown on the display* and the words change color as the song advances, so you know exactly when to come in. You can even display the lyrics on a big TV screen so everyone can join in!
*Only if the song data includes lyrics.
Plug in a microphone, and you can sing along with your playing. The Vocal Harmony 2 (VH2) engine creates advanced sounding harmonies, enriching your voice and is even capable of correcting your pitch!
Get in touch with the features you use most.
This easy-to-understand touch screen makes the CVP simple to operate: you can touch, slide, swipe or rotate contents in the screen to access different functions and make adjustments. Adjustable brightness ensures an easy-to-read screen in all situations. Other buttons on the panel are laid out in easy-to-see and reach locations.

If you want it to, the Clavinova will even talk to you!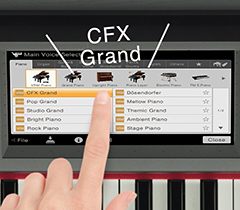 When Voice Guide is active, the Clavinova speaks information from the current display or operation being executed. This allows those who have visual impairments to enjoy playing and using the instrument.
Ghi chú
*When using Voice Guide, make sure that the USB flash memory containing the Voice Guide files is connected to the instrument.
*The audible information of the functions/screen supported by the Voice Guide is limited.
Tùy chỉnh bảng điều khiển theo ý bạn thích.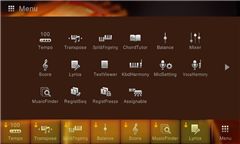 You decide what functions appear on the touch screen and which are assigned to special panel buttons.
- Bookmarks for your favorite Voices and Styles in one convenient button
- Shortcuts on the Home display for your most used "apps" from the MENU display
- Assign your most used functions to the ASSIGNABLE buttons on the panel.
Turn a USB device into an portable recording studio.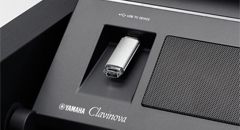 The USB Audio Recorder* allows you to record your performances on a USB flash drive for emailing, uploading to the internet or sending to your MP3 player. This lets you compare two different performances to gauge your progress or allows you to share your music with friends and family.
*Stored as WAV or 5 different popular MP3 formats.
[Other Functions]
- Pitch Shift: Change the key without changing the tempo
- Time Stretch: Slow down or speed up the tempo without changing the pitch
- Vocal Cancel: Cancel or suppress signals like vocals and solos that exist in the center of an audio file
New Speaker innovations by Yamaha include Spruce Cones and Twisted Flare Ports.
Drawing from its experience in building both acoustic pianos and high-end speakers, Yamaha CVP-709 speaker cones use pulp from the same spruce wood used to make acoustic piano sound boards.The result is a more natural, piano-like attack to the sound that is more piano-like when you play the keys.
The Twisted Flare Port, a new Yamaha technology, offers a clearer bass sound. The flared and gently twisted shape evenly diffuses the air flow through the port. Compared to a conventional port, the Twisted Flare Port reduces air turbulence noise, contributing to clear and accurate low frequency reproduction.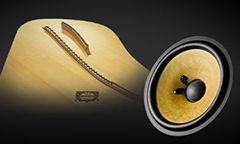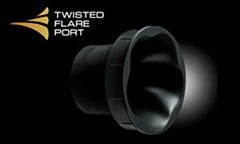 Giai điệu tối ưu ở bất kỳ mức âm lượng nào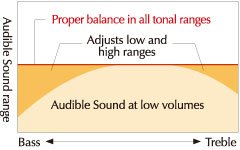 When playing in a home environment, people often enjoy the Clavinova at much less than full volume. However, the physics of sound at low volumes results in a loss of treble and bass. On a Clavinova, however, the Intelligent Acoustic Control (IAC) automatically adjusts the sound so you enjoy proper excellent bass and treble sound balance even at low volumes. Additionally, the volume dial automatically makes fine adjustments to the overall sound of the speaker system (EQ) at low volume. This ability to adjust volume without losing the rich and balanced sound is an exclusive Yamaha benefit, ensuring you always play with the utmost sound quality.
Wireless audio and wireless MIDI with iOS devices.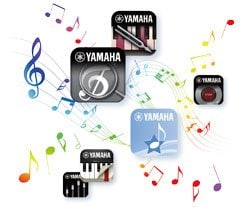 If you use an iPad, iPhone or iPod touch, Yamaha apps will make playing more convenient and enjoyable. Quickly set the ideal Voice and accompaniment Style for the song you'd like to play. Record your own performance and share it with a friend. Add to visual effects to your performance with computer animation that repsonds to what you play. Check out the apps and find the ones that meet your needs. Several Yamaha apps are designed to work only with Clavinova digital pianos.
Note: Some apps require a connection to your instrument. Wired connections are possible with devices such as the Yamaha i-MX1, i-UX1 or Apple Lightning to USB Camera Adapter. Wireless connection may require a wireless router. Wireless audio connection requires bundled USB wireless LAN device.
Teach your iPad to play by ear.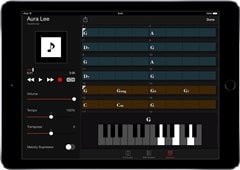 With this exciting Yamaha app, your iOS devices will listen to recordings of virtually any song* and tell you the chords required for playing it. Bring the song file into the CVP where guide lamps can show you how to play those chords, and also teach your virtual backing band to play along with you using Styles. Yamaha's exclusive Chord Tracker app is optimized to work with CVP Clavinovas for unlimited self-taught musical possibilities.
*Recordings must be in MP3 or WAV formats on your iOS device.